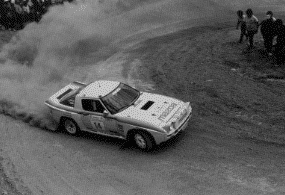 re1985.jpg 57k

Savanna RX-7 have left many good results on WRC(World Rally Championship).
They have made their debut on world stage at RAC rally in November, 1981.
Finish 11th in the over all result and second in two group divisions
is able to say that they have got a good result over expectations as the first batch.
They have organized MRT(E), MAZDA Rally Team(Europe), and strengthen as structure.
They had shown bravely fight and placed in third and sixth
in the over all result at Acropolis Rally on 1985.
The world rally circles in the begining of 1980's
was the time that turbo and midship have developed rapidly.
In 1986, FIA (Federation of International Automobile) have published
the shift of group B to more realistic group A
because of monster machine at WRC had promoted the danger of an accident as a result.
It is fresh in our memory that Familia 4WD have won the tittle under this situation
at Swedish Rally on 1987.